July 2019
We spent two weeks here along with our kids and my parents. We were after a place in the Tuscan countryside to experience the local area, relax by a pool and visit the larger cities in the region and this ticks all the boxes.
Being on the northern edge of the region it's not particularly touristy, which is great - you get a real sense of the local community and area and are not flooded with tourists. The local town Scarperia is wonderful - lovely old buildings and a good selection of cafes, restaurants, and supermarket to keep you going.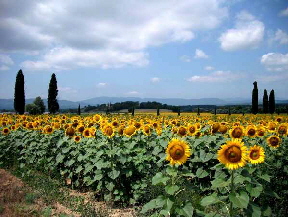 The house is big enough to give everyone some space and is well equipped to cook (in the kitchen and on 2 BBQs), and the pool and terrace area was lovely to relax and just take in the surrounding valley whilst cooling off.
Locally there's still lots to do - drive up the hill to the WW2 site and see the stunning views, the german WW2 cemetery, Mugello race circuit at the bottom of the hill, and Lake Bilancino all well worth a visit.
Florence, Pisa and Siena are all reachable and well worth a visit if you can to explore and do the main touristy things - we use the train for Florence from a nearby station and drove to Siena and Pisa.
The food locally was amazing, sadly we couldn't eat at the much-hyped local restaurant, but still experienced some great food, the highlight of which was the degustation at the local farm L'Aia di Martino.
Janilee was a wonderful host, on hand to answer questions and help, as well as baking us a wonderful strawberry tart. The neighbouring cats and donkeys were much loved by the kids as well!
All in all we had a fabulous 2 weeks and lots of happy memories for us and the kids.
Simon T.
London, United Kingdom