About Our Farmhouse Villa
Janilee's Tuscan Villa -- Join us to enjoy our 500-year-old farm house in the heart of Tuscany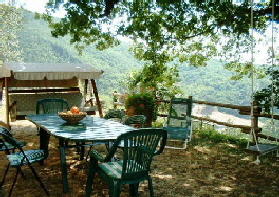 with a medieval village, a beautiful lake, biking trails, horseback riding and pastoral adventures close at hand. Of course Tuscany is known for its food and wines.
Our setting and our commitment to excellence have earned us the reputation as the best Farmhouse-For-Rent in the area. At Janilee's Tuscan Villa, our highest priority is satisfied customers. You are important to us and you can expect us to go the extra mile for your business. Superior customer service is the hallmark of Janilee's Tuscan Villa.
We are proud to serve you and work hard to earn your business. Tell your friends and family; then come back soon.